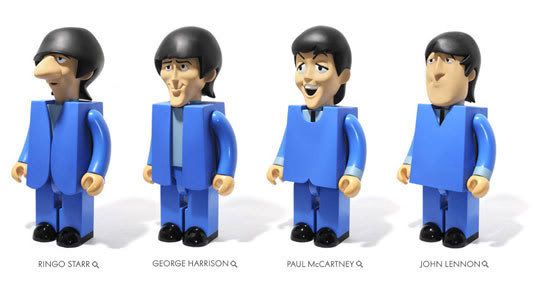 Keywords: Beatles, catalog, digitally, remastered.

Could it be that the Beatles are finally coming to iTunes, as has been rumored and rushed into print so many times? Nope. Reissued CDs, that powerhouse commodity of 2009:
London, England – April 7, 2009 – Apple Corps Ltd. and EMI Music are delighted to announce the release of the original Beatles catalogue, which has been digitally re-mastered for the first time, for worldwide CD release on Wednesday, September 9, 2009 (9-9-09), the same date as the release of the widely anticipated "The Beatles: Rock Band" video game. Each of the CDs is packaged with replicated original UK album art, including expanded booklets containing original and newly written liner notes and rare photos. For a limited period, each CD will also be embedded with a brief documentary film about the album. On the same date, two new Beatles boxed CD collections will also be released.
Hey, it's better than a $395 White Album fountain pen ... right?

To their credit, the biggest-selling act of all time did offer this thoroughly lawyered non-update on the issue of digital distribution:
Discussions regarding the digital distribution of the catalogue will continue. There is no further information available at this time.