When I moved into my apartment 10 years ago, the area was a doughnut nexus. Three great shops were within a block from my door. Twin Donut was directly across Ninth Avenue, at 24th Street; Krispy Kreme was a block away on 23rd Street; and at the corner of Eighth and 23rd was a place whose huge painted sign simply said "DONUTS." This last one had a wavy counter, and behind it was a surly old dog with some kind of frightening affliction on his eye. He seemed to take offense at every order.


I used to go to Twin Donut and read the weekend papers with a chocolate glazed (or two); the coolest thing about the place was the little sliding window to serve doughnut lovers passing by on the street. Knowing what kind of catastrophe could coagulate in my veins if I lost control, I mostly kept away from the stores on 23rd Street, but I was somehow comforted by the thought of all that buttery cake and confectioner's sugar being just a bad decision away.

One by one they disappeared. Twin Donut became the Heart Land Café, which didn't last long, and the space lay vacant for some time. Krispy Kreme began retreating from the Northeast years ago as people awoke from cholesterol denial. And at some point the "DONUTS" place became Breadstix Café, which is your typical phony bakery/panini/wrap/cheesecake joint, designed to dupe tourists who haven't figured out that they can get ripped off at Pax or Europa Café.

Meanwhile, Chelsea has succumbed to that kind of hyperdrive gentrification in which an already nice neighborhood, with high property values and low vacancy and all that, begins to root out every cheap restaurant, old-man bar and unhip small store as if part of some retail pogrom. (Die, Chelsea Commons! Good riddance, Midnight Records — make room for Ben & Jerry's and a gay-themed bakery!)

Which, as everybody knows, is basically the way it goes in Manhattan. Except for one thing that to me seems to symbolize the new Chelsea: instead of having three humble doughnut vendors in my immediate vicinity, I now have my choice of three posh tapas restaurants, with several more just a few blocks away.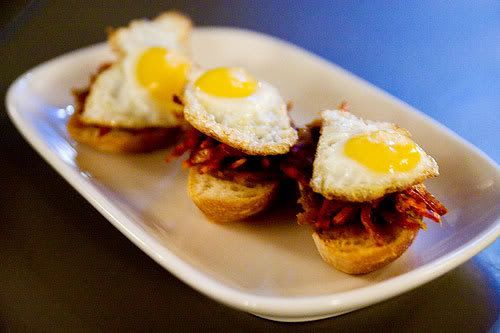 The first to arrive, in 2004, was Tía Pol, on 10th Avenue. (It deserves the raves; so salty and tasty.) Three years later it spun off El Quinto Pino, in a tiny space on 24th Street that had been a breakfast place and then a bar (and perhaps some other short-lived thing too). Then a couple of months ago, in a spot on Ninth Avenue once occupied by a cheese distributor, or something equally unglamorous, came Txikito, a Basque place that serves what are basically tapas (and is yet another Tía Pol satellite).

And yet more.

I remember getting a couple of doughnuts and a cup of coffee at Twin Donut for less than $3. That would barely buy me a bite of arraultza now — which, I have to admit, I have tried, and enjoyed. But if I'm going to be colonized by anything, I want it to be Boston cremes, goddammit, not $12 mini-bocadillos. (A year or so ago a Dunkin' Donuts opened two doors down from me. It's depressing even just to look inside.)

And whatever happened to Twin Donut? After years of vacancy at 230 Ninth Avenue, around the first of this year I noticed a nice, thick new wooden door there. Then they put in a little bar, then tables and golden lighting. Uh-oh, I thought, but it turned out not to be yet another tapas place. Instead it's something only slightly less posh: Co., from the Sullivan Street Bakery people, serving little pizzas at "reasonable prices." We'll see about that. (Update: It may not be cheap, but it's pretty reasonable — and delicious.)

For now, though, there's one aspect of the doughnut legacy of Chelsea that I'm glad has not been erased. That little window is still there. I wonder if anybody has looked up from their "iconoclastically topped" pizza and wondered what that thing is: