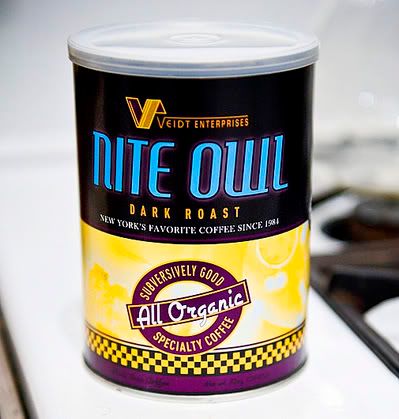 The official Watchmen movie blog reports:
WATCHMEN photographer Clay Enos has enlisted his Organic Coffee Cartel (OCC®) to produce a first-of-its-kind movie tie-in coffee for WATCHMEN, the upcoming film adaption of the celebrated graphic novel. Introducing Veidt Enterprise's "Nite Owl Dark Roast," a limited-edition confection and collectible designed for fans and organic coffee gourmands alike. ...

"Making an imaginary coffee into something real seemed like a fitting and fun way to honor the multi-layered world of WATCHMEN. And having a majority of profits go to charity seems a little like something Adrian Veidt would do," says Enos. "It's not your usual movie-tie in fare, I really tried to make a quality product. It's filled with specialty coffee that I want people to drink. Save the can, drink the coffee."
No acknowledgment on this announcement or the ordering page (it costs $19.85) that the design is 100% pure Chock Full o' Nuts.

Clay Enos is the guy who took Avedon-style portraits of seemingly everybody in the cast — seriously everybody, down to Rorschach's mom, random Times Square hookers, and Big Figure with his henchmen (below) — for the Watchmen: Portraits book ($50). Poor guy's not getting any royalties for it, though.