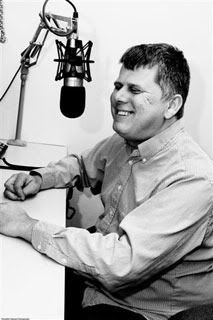 State of Connecticut to Proclaim Day in Honor of America's First Blind Traffic Reporter in Millford.


Nation's first blind traffic reporter Tommy Edison will honored by State of Connecticut and local Officials tomorrow Thursday May 21, 2009 at 11 a.m. in a special ceremony and press conference at [REDACTED]

. The Governor the

[sic] proclaiming the day for him for his remarkable dedication to helping others in traffic while being completely visually impaired since birth. While playing music in local bands, he is a life-long Connecticut resident and has worked for radio station Star 99.9 for the past 15 years.

He also enjoys skiing.

Friends, family, co-workers and local residents will also be attending the governments [sic]

special Tommy Edison Day tribute.
O.K., I can understand talking about traffic jams without necessarily being able to see them; it's been commented on before. But skiing?!

(Also, it's spelled Milford.)