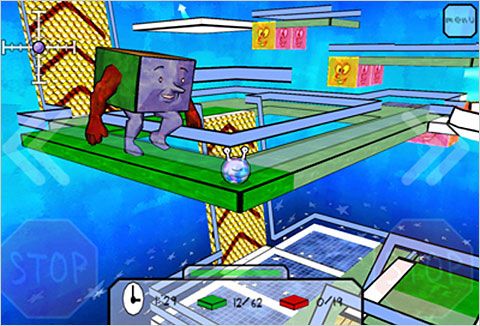 Seth Schiesel reviews Hi, How Are You, the new iPhone video game based to some degree on Daniel Johnston iconography. Earlier coverage portrayed it as "a kind of psycho-religious version of Frogger," but Schiesel sets the record straight:
Frogger is about dodging objects in motion and jumping from one moving platform to another. Hi, How Are You is about tilting the iPhone itself to direct a little cartoonlike figure along pathways suspended in space without falling off. (You can also put your finger on a virtual joystick on the iPhone screen instead of using the motion-sensitive tilt controls.)

So in its game play Hi, How Are You is very similar to Sega's eight-year-old Super Monkey Ball franchise, a parallel that becomes obvious partway through, when you transition from controlling a bouncing cube with eyes to controlling a rolling ball with eyes.
OK!