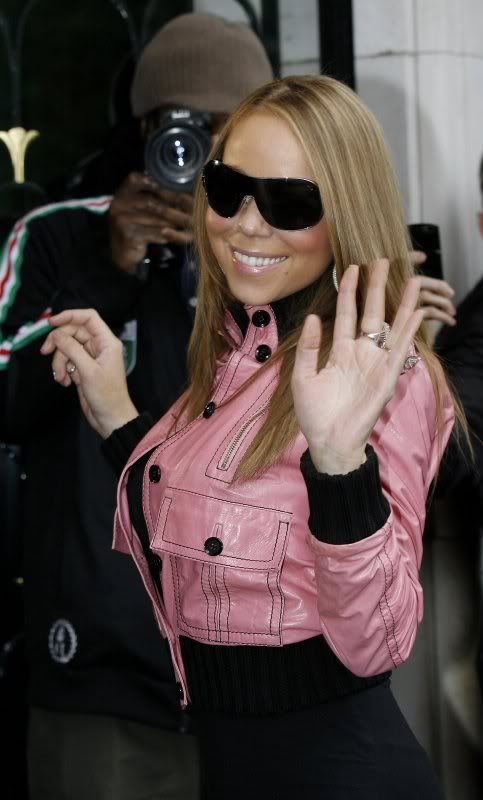 A somewhat ballsy story in The Times of London about Mariah Carey's business schemes — it calls her "one of the few people successfully to screw a major record label" — includes this nugget explaining how Mrs. Nick Cannon manipulates paparazzi at her public appearances via leaks to selected, and presumably controllable, fan-bloggers:
Carey's itinerary, which is supposed to be top secret but which an aide has helpfully left lying on a table, reveals that she uses the Internet to leak details of each appearance to favoured bloggers and Facebook groups shortly beforehand. This way, only the most devoted fans turn up, and freaks and weirdos are weeded out. The selective leaks also help to make sure there are enough paparazzi but not so many that there's a scrum. Just before she is due to arrive at the Asahi studios to appear on Music Station, Carey's aides "leaked the time she will appear at entrance through social online sites, blogs, etc. We are expecting to have 100 fans and some paparazzi", the schedule reveals. The cybertrickery works to script. Just after 6pm, Carey pulls up in her stretch limousine and steps out into a small but perfectly formed crowd.
According to the article, we can also expect to see Carey in a lot of tourism ads:
She has a house in the Bahamas on the island of Eleuthera. She won't say if she is paid by the Bahamas tourist board to talk about how great the place is but you'd be forgiven for thinking she is, given the amount of time she spends doing so. ... Carey also plans to team up with the New York tourist board to attract visitors to her adopted home town. When she had her 18th No. 1, the city authorities lit up the Empire State Building in her favourite colours: pink and lavender. It was good publicity for Carey and for New York. Expect to see "Mariah in New York" advertisements soon.
(HT TDS.)