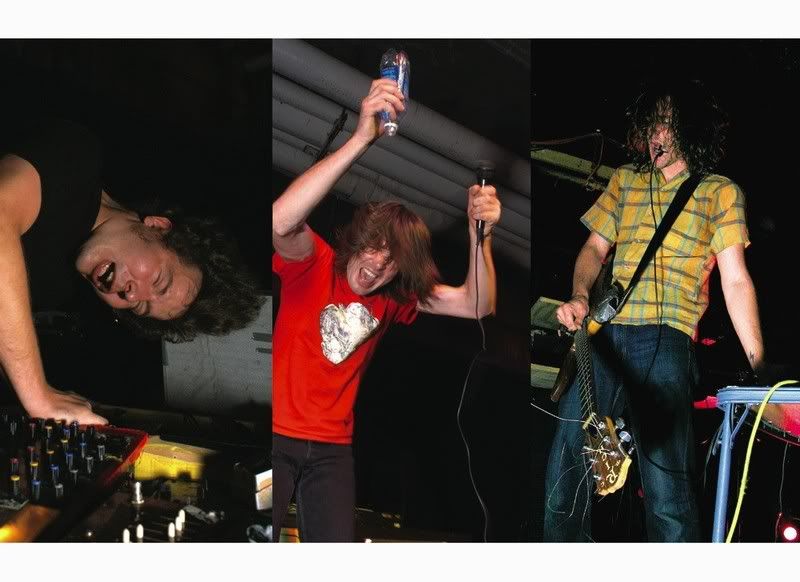 ALBUMS

1. Arcade Fire, Funeral
2. Franz Ferdinand, s/t
3. TV on the Radio, Desperate Youth, Blood Thirsty Babes
4. Kanye West, The College Dropout
5. Regina Spektor, Soviet Kitsch
6. Wolf Eyes, Burned Mind
7. Vietnam, The Concrete's Always Grayer on the Other Side of the Street
8. Usher, Confessions
9. Modest Mouse, Good News for People Who Like Bad News
10. William Shatner, Has Been

THE NEXT 10

Mr. Airplane Man, C'mon DJ
Joanna Newsom, The Milk-Eyed Mender
Devendra Banhart, Rejoicing in the Hands
Liars, They Were Wrong, So We Drowned
Mosquitos, Sunshine Barato
Bang on a Can Meets Kyaw Kyaw Naing
Nick Cave, Abbatoir Blues/The Lyre of Orpheus
Tom Waits, Real Gone
Futureheads, s/t
Hot Snakes, Audit in Progress

26 MORE

Cucumbers, All Things to You
Tilly and the Wall, Wild Like Children
Caetano Veloso, A Foreign Sound
Blonde Redhead, Misery Is a Butterfly
Comets on Fire, Blue Cathedral
Laura Veirs, Carbon Glacier
Faun Fables, Family Album
Mouthus, s/t
Elliott Smith, From a Basement on the Hill
PJ Harvey, Uh Huh Her
Walkmen, Bows + Arrows
Bright Eyes/Neva Dinova, One Jug of Wine, Two Vessels
The Divine Comedy, Absent Friends
Iron & Wine, Our Endless Numbered Days
Division of Laura Lee, Das Not Compute
On Air Library, s/t
John Cale, HoboSapiens
Black Dice, Creature Comforts
Pink Grease, This Is for Real
Blood Brothers, Crimes
Chingy, Powerballin'
Beastie Boys, To the 5 Boroughs
Danger Mouse & Jemini, Ghetto Pop Life
Sonic Youth, Sonic Nurse
Hem, Eveningland
v/a, Lif Up Yuh Leg an Trample

REISSUES

Brian Eno (8 albums)
The Good, the Bad and the Ugly soundtrack
Eccentric Soul series on Numero

DISAPPOINTMENTS

Hives
Mos Def
Magnetic Fields
Sondre Lerche
Air
Destiny's Child
Secret Machines
Wilco
Northern State
Talib Kweli
Mooney Suzuki
Le Tigre

DON'T CARE

Morrissey
Scissor Sisters
Jadakiss
Libertines
Jet
Drive-By Truckers
Courtney Love
Prince
Polyphonic Spree
Rufus Wainwright

BLANK STARE

The Streets
Velvet Revolver

WORST ALBUM OF 2004

Mick Jagger and Dave Stewart, Alfie: Music From the Motion Picture

EX POST FACTO

Apparently I didn't make a list of singles for 2004.