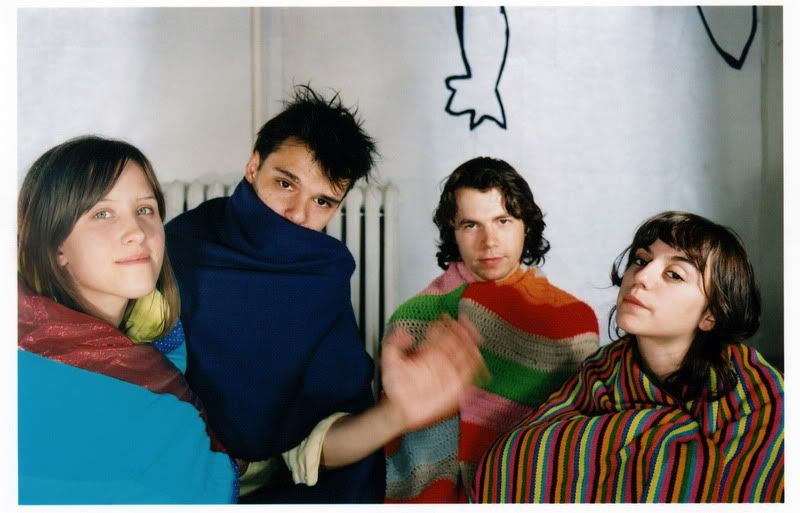 ALBUMS

1. Dirty Projectors, Rise Above. Much has been said about the concept. And it's brilliant. But what got me was how Dave Longstreth advanced the emerging indie-boys-discovering-Afropop minigenre. He rips up highlife and uses just what he wants — the sunny, melodic dance lines, the manic guitar counterpoint — which is exactly what he does with/to Black Flag and those Stockhausen-esque alien harmonies. Oh, and it kicks ass, too. (Example; Black Flag's original.)

2. Robert Plant and Alison Krauss, Raising Sand. This seemed a potential trainwreck when I first learned of it, but it turned out to be a glorious surprise. Luxuriant and masterly, it's the O Brother, Where Art Thou? of blues, country and rockabilly, with a center of gravity in the 1950s instead of the '20s.

3. Spoon, Ga Ga Ga Ga Ga. I gave it a mixed review when it came out because the looser, jammier approach of latter-day Spoon seemed less compelling than the structure-mad minimalism of the Kill the Moonlight era. But I was wrong. This is Britt Daniel in magnificent command of sound and vision, and though it's less compositionally compressed than before, not a single sound is wasted.

4. Battles, Mirrored. The nuttiest, tightest and most surprisingly danceable math(ish)-rock album of the year.

5. Feist, The Reminder. First impression: Sounds like Feist. Six months later: Pretty much a perfect archetype of what soft-rock can be in the '00s, tasteful and grown-up but squarely in the indie idiom, not folk. That means its interests extend beyond the acoustic guitar, and the central emotional tone is mature vulnerability, not earnestness.

6. Amy Winehouse, Back to Black. It was clear long before her Lohanization that Amy is a star. Back to Black is a broadly conceptualized, flawlessly executed vision of neo-soul, with big, hip-hop-y beats that could be samples were Amy and Mark Ronson — who deserves his share of credit — not in love with real, live sound. But listen again to the suicide note that is "Rehab": she was fucked up way pre-Perez Hilton.

7. M.I.A., Kala. Actually my biggest disappointment. Ms. Arulpragasam made a very, very good album instead of another freakin' unbelievable one. Her agitprop also threatens to get boring eventually. But I had the pleasure of interviewing her, and found her very willing to be challenged and debated on politics. A simple egotist/ideologue wouldn't be.

8. Arcade Fire, Neon Bible. Second-biggest letdown, because three years ago they made a supreme statement of optimism and joy at a time when the ruling dogs were the Strokes, Modest Mouse, etc. Neon Bible is their apocalypse album, and it's excellent. But it feels like 47 minutes in purgatory, which by definition isn't exactly satisfying.

9. Avril Lavigne, The Best Damn Thing. It's the best pop record I heard this year. So fuck you.

10. Radiohead, In Rainbows. It's a bad year when your top 10 includes three disappointments. This is a gorgeous, classic Radiohead album — how infinite in faculty! in form, in moving, how express and admirable! in action how like an angel! in apprehension how like a god! — but it doesn't tell me anything I didn't already know about the band.

THE NEXT 13

The National, Boxer
Black Lips, Good Bad Not Evil
Linda Thompson, Versatile Heart
Beirut, The Flying Club Cup
Ryan Adams, Easy Tiger
Animal Collective, Strawberry Jam
St. Vincent, Marry Me
Yeasayer, All Hour Cymbals
Kanye West, Graduation
Neil Young, Chrome Dreams II
White Stripes, Icky Thump
Essie Jain, We Made This Ourselves
Tegan & Sara, The Con

ALSO RECOMMENDED

Arctic Monkeys, Favourite Worst Nightmare
Nicole Atkins, Neptune City
Meg Baird, Dear Companion
Big A Little a, gAame
The Bird and the Bee, s/t
Andrew Bird, Armchair Apocrypha
Bonde do Rôle, With Lasers
Deerhoof, Friend Opportunity
Deerhunter, Cryptograms
Dinosaur Jr., Beyond
Julie Doiron, Woke Myself Up
Dolorean, You Can't Win
Justine Electra, Soft Rock
Tim Fite, Over the Counter Culture
Frames, The Cost
Fratellis, Costello Music
Erik Friedlander, Block Ice & Propane
José González, In Our Nature
Jesca Hoop, Kismet
Jennifer Gentle, The Midnight Room
Jesu, Conqueror
Klaxons, Myths of the Near Future
Lavender Diamond, Imagine Our Love
Bettye LaVette, The Scene of the Crime
LCD Soundsystem, Sound of Silver
Nick Lowe, At My Age
Nellie McKay, Obligatory Villagers
Nina Nastasia & Jim White, You Follow Me
No Age, Weirdo Rippers
Okkervil River, The Strange Names
Josh Ritter, The Historical Conquests Of
Shins, Wincing the Night Away
Elliott Smith, New Moon
Spanish Harlem Orchestra, United We Swing
Mavis Staples, We'll Never Turn Back
Marnie Stern, In Advance of the Broken Arm
Richard Thompson, Sweet Warrior
Teddy Thompson, Up Front & Low Down
Ween, La Cucaracha
Tinariwen, Aman Iman
KT Tunstall, Drastic Fantastic
David Vandervelde, The Moonstation House Band
Voxtrot, s/t
Rufus Wainwright, Release the Stars
White Williams, Smoke
Wilco, Sky Blue Sky

REISSUES

Young Marble Giants, Colossal Youth
Betty Davis, Betty Davis/They Say I'm Different
Pylon, Gyrate

SINGLES

1. Amy Winehouse, "Rehab"
2. Rihanna feat. Jay-Z, "Umbrella"
3. Avril Lavigne, "Girlfriend"
4. Bonde do Rôle, "Gasolina"
5. Lil Mama, "Lip Gloss"
6. Robin Thicke, "Lost Without U"
7. M.I.A., "Boyz"
8. Fratellis, "Chelsea Dagger"
9. Spoon, "You Got Yr. Cherry Bomb"
10. Grinderman, "No Pussy Blues"

HONORARY MENTIONS

Radiohead, "House of Cards"
Kanye West feat. Mos Def, ""Drunk and Hot Girls"
Bruce Springsteen, "Livin' in the Future" (time travel theory here)

NOPE

Fall Out Boy
Architecture in Helsinki
I'm From Barcelona
Mos Def
Polyphonic Spree
Dean & Britta
Black Rebel Motorcycle Club
Sage Francis
Dntel

DISAPPOINTMENTS

Keyshia Cole
Rilo Kiley
Bjork

BLANK STARE

Levon Helm (he's great and everything, but album is terrible, and gushy reviews are inexplicable)

REALLY, REALLY BUMMED OUT THAT I MISSED LIVE

Daft Punk

REALLY, REALLY GLAD I SAW LIVE

Dirty Projectors

TRULY IS THAT GOOD

Feist

SPECIAL CITATION FOR OPENING A PORTAL TO THE BORE-UNIVERSE FOR 77+ MINUTES

Boredoms, 77BOADRUM, Brooklyn, 7/7/07 (I was behind this guy, at position #69)

POOR THING

50 Cent

COOLEST TITLE

Tom Zé, Danç-Êh-Sá

DUMBEST TITLE

Radiohead, In Rainbows

BEST NEW BLOG BAND

Vampire Weekend

MOST OVERRATED NEW BLOG BAND

Black Kids

BEST USE OF 'WOLF' BY A CANADIAN INDIE BAND ...

AIDS Wolf

... AND WORST

Sea Wolf (because they're from L.A.)

MOST PATHETIC KERFUFFLE

Fallout from Sasha Frere-Jones's misguided essay on the whiteness of indie-rock. David Brooks should never write about music, with the possible exception of political allegories drawn from Marx Brothers musical numbers. As has been noted, Carl Wilson performed an excellent tear-down of Frere-Jones's piece.

BIGGEST LIE

Live Earth. It had nothing to do with saving the planet and everything to do with Al Gore's ego. Ever wonder why the musicians most outspoken about environmental issues — Pearl Jam, Neil Young, Willie Nelson, Radiohead, U2, even emissions-credit-buying Coldplay — were not involved?

WORST ALBUM OF 2007 (tie)

Prince, Planet Earth. Come on people, it sucks. And let's all just admit it: he hasn't done anything worthy since Diamonds and Pearls ('91) and nothing truly great since Lovesexy ('88). He's awesome in concert and looks good and all, but please.

Jesse Malin, Glitter in the Gutter. Bruce, say it ain't so.
---