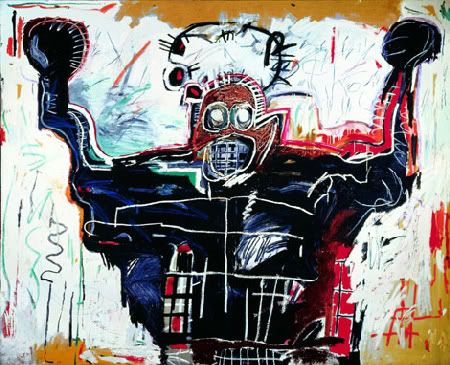 Memo to the art world from Lars Ulrich: fear not the markets, art's value is safe. That's, um, why he's selling his last Basquiat.

Carol Vogel reports in the Times today that Ulrich is selling "Untitled (Boxer)," a 1982 painting by Jean-Michel Basquiat, at Christie's in New York next month. Christie's estimates the sale at $12 to $16 million.

Ulrich, whose sale of a Basquiat for $5.5 million in 2002 — a record at the time — was captured in the film Some Kind of Monster, told Vogel that he has faith in the art market even as Wall Street shakes:
"Of course it's an awkward time to sell, but I've always been about taking chances," Mr. Ulrich said.

"I have a lot of faith in the art market," he added. "It's perhaps the last frontier where the best of the best will not go the way of the rest of the economy." Recently his collecting has gone in a different direction, he said. Rather than relying on auctions, he has begun scouring galleries, buying the work of emerging artists.
Metallica's latest, Death Magnetic, by the way, has sold just over 1 million copies since it was released a month ago. (Omniscient readers may also recall that a few months ago U2 auctioned off a Basquiat that had hung in their rehearsal studio for $10.1 million.)