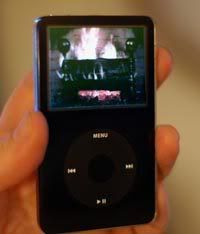 Alessandra Stanley's column today about video yule logs reminded me to remind the world that the great WPIX Yule Log — the original — is available as a download for your iPod.

Which means that while you're waiting on line at the airport or being shoved in the face by someone's luggage on an Amtrak train, you can find comfort in 240 by 180 crackling pixels on a 6 minute 3 second loop.

And although classic WPIX remains the greatest television station ever — two words: Phil Rizzuto — I learned this year that even we New York chauvinists can reach to our friends across the country in Yule Log solidarity. It was filmed in a house in California on a hot August day in 1970.

Something to chat about over your wassail games this year.