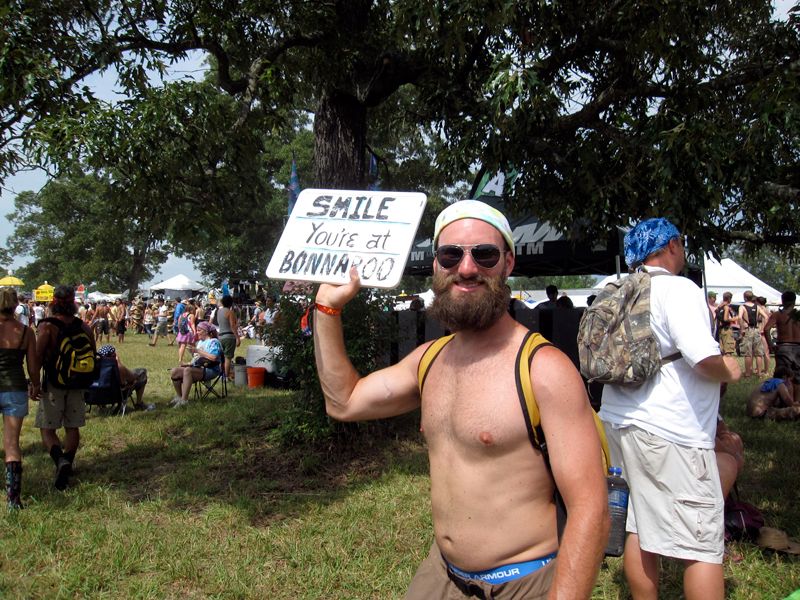 Here are all the four-word reviews I wrote at the Bonnaroo festival, including a few that didn't make it onto ArtsBeat. Many of these shows — but not all — have been archived by NPR.

Once again I acknowledge the inspiration of Coolfer Glenn (now Billboard Glenn). But of course nobody's making any claims about originality here; it's just fun to work in miniature.

The sets I enjoyed the most are in bold.
Non-Commissioned Officers:

Shouty kickoff, afternoon steam.

The XX:

Cold, beautiful, boring mask.
Manchester Orchestra: Scale, grandeur, pathos. Songs?

Fanfarlo:

Proof ArcFire's more'n fiddles.
Entrance Band/Baroness: If hippies hate Slayer, is heavy's success failure?
Neon Indian: Didn't really chill me.
Blitzen Trapper: No longer simply derivative.
Needtobreathe: Pushing Southern groove buttons.
Calexico: Mariachi horns = soothing refreshment.
Jamey Johnson: Deadpanned, rehabbed soothsayer. Understood?
Zac Brown Band: Skynyrd + Dave + Daniels + "Margaritaville"?

John Fogerty:

Indelible songbook; confusing riffage.

Weezer:

Caustic, candied pop. Antijam.

Thievery Corporation:

Globalist blockrockers. What chillwave?

Norah Jones:

Soundbleed obscures her grace.

Lissie:

Her Gaga tender, raw.
Mexican Institute of Sound: Ambassadorship served hot, booming.
Clutch: OCD riffing, insistent barking.
Deadmau5: Appropriately cartoonish hau5. Ka-pow!
The National: Ennui too complex here?
Tori Amos: Rhapsodic psychocabaret: unscary entertainment.
Nitty Gritty Dirt Band: Conservative, but right on.

Les Claypool:

Worst dancers (so far).
Kings of Leon: A carnal sorta homecoming.

Black Keys:

Trying open-mindedness. Trying.
The Flaming Lips: Dull side ofthe 'Roo.
Galactic: Aggressive, phattish Nawlins funk.
Conan O'Brien: Smaller stage, bigger love.
Umphrey's McGee: Oh, so

thaaat's

"jamming."
Local Natives: The mustaches speak louder.

Nneka:

Drowned by Bud logos.

Lucero:

Bruce > Gaslight > Marah > Lucero.
Ween: Strangely flaccid. What's wrong?

Martin Sexton:

Quite lovely, if tame.
Bomba Estéreo: 2010's Bonde (that's good).