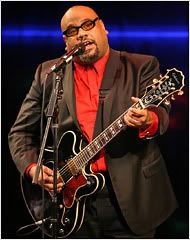 Sometimes it's good to be wrong. Four months ago in an interview with Stew about Passing Strange, which had just transferred to Broadway, I commented that because of low opening attendance, positive reviews would be necessary to fill seats. "Otherwise," I said, "it won't last long." Stew wrote me a friendly note saying that it was common for arty-type shows to have slow openings but that it was picking up steam.

I'm happy to say that Passing Strange did better than I expected. It was nominated for seven Tony Awards and won one, for best book of a musical. And though it is closing next Sunday, it will have had a respectable run of 20 previews and 165 regular performances; as of last week, it had grossed nearly $4.6 million. (If the final two weeks stick to its post-Tonys pattern, it will close with just over $5 million — meaning it will have broken even, something by no means guaranteed on Broadway.) And that's not counting the Spike Lee movie.

In my interview, Stew talked about the challenge of playing a serious, rock-based, non-superstar show to the blue-hair crowd, and promised that he would not compromise. ("When you come up here, man, you have to either stick to your guns or turn around and put on the Vaseline.") And he did it, despite, as he said on his blog recently, his realization that he is "NOT a Broadway baby":
This Broadway challenge, this chapter now coming to an end, while I accepted it a little hesitantly I'll admit, is one I would not trade for anything. We accepted it and met it on our own terms. There is no artistic accomplishment in my life that I am more proud of than Passing Strange. Heidi and Annie would say the same. We brought a piece of work to Broadway that I know gave certain people a kind of hope that maybe there could be more to Broadway than shiny buttons, an uplifting first act closer, and a happy ending...

The most important thing I learned, for the purposes of understanding how I feel right now, is that I am NOT a Broadway baby. I was born to do many things but I was not born to be here. So I am indeed going to be happy to have my life back. Heidi and I have many projects that require our attention and we are excited and eager to get to them. And I want to spend real time with my loved ones, both here and in Berlin where I live. And I want to book a gig at some really out of the way dive in some deep, dark corner of New York Town and make a hellishly melodic, soulful noise all night long.
I still have my nits, but if you haven't seen the show yet, you must. You have one week.