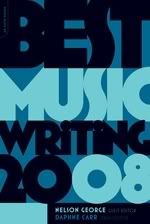 I'm thrilled to report that an article of mine will be included in the 2008 edition of Da Capo's Best Music Writing anthology, which will be out in September. Nelson George was the guest editor, and he chose my profile of Stargate, the Norwegian production duo behind hits by Beyoncé, Rihanna and others.

I'm in very good company. Here's the full table of contents:
CARL WILSON * The Trouble With Indie Rock: It's Not Just Race, It's Class * Slate
BILL WASIK * Annuals * Oxford American
CLIVE THOMPSON * Sex, Drugs and Updating Your Blog * The New York Times
JEFF WEISS * Soulja Boy: Cranking the Chain * LA Weekly
DANYEL SMITH * Keyshia Cole: Hell's Angel * Vibe
NOAH BERLATSKY * Underrated Overground * Chicago Reader
SOLVEJ SCHOU * First Person: Auditioning for this Season's 'American Idol' * Associated Press
BEN SISARIO * Wizards in the Studio, Anonymous on the Street * The New York Times
BRANDON PERKINS * Wu-Tang: Widdling Down Infinity: Can a Bunch of old, dirty bastards save hip-hop for a third time or will the math just collapse upon itself? * URB
JONATHAN CUNNINGHAM * Freaks Come Out at Night: Grandmaster Dee Cuts a Wide Swath on the Comeback Trail * Broward-Palm Beach New Times
NADIA PFLAUM * Pay 2 Play: Hip-hop Hustlers are making Off with Kansas City Rappers' Hard-Earned Cash * The Kansas City Pitch
ANN POWERS * It's Time to Kick this Addiction * Los Angeles Times
NIKE D'ANDREA * Bad Habits: NunZilla's Punk-rock Catechism Will Leave you Praying for More * Phoenix New Times
J. BENNETT * Dimmu Borgir * Decibel Magazine
ERIC PAPE * "We Sing Everything. We have Nothing Else" * Spin
ANDY TENNILLE * Sharon Jones and the Dap-Kings * Harp
MARKE B * Gayest. Music. Ever.: The Death of Circuit, Energy 92.7, and the New Queer Dance Floor Diaspora * San Francisco Bay Guardian
PHIL SUTCLIFFE * Pete Seeger * MOJO
JEFF SHARLET * The People's Singer: the Embattled Lee Hays * Oxford American
LARRY BLUMENFELD * Band on the Run in New Orleans * Salon
DAVID KAMP * Sly Stone's Higher Power * Vanity Fair
MATT ROGERS * Beast from the East: Mandrill's Musical brew is Equal Parts Brooklyn and Motherland * Wax Poetics
OLIVER WANG * Boogaloo Nights * The Nation
SAM KASHNER * Fever Pitch: When Travolta Did Disco; the Making of Saturday Night Fever * Movies Rock
SEAN NELSON * Dead Man Talking: "Kurt Cobain: About a Son" * The Stranger
JODY ROSEN * A Pirate Looks at Sixty: Jimmy Buffett's Mid-Life Crises * Slate
ALAN LIGHT * The Notorious BIG * Blender
ALEX ROSS * Apparition in the Woods * The New Yorker
GARY GIDDINS * Back to Bossa: Rosa Passos and Fifty Years of Bossa Nova. * The New Yorker
DAVID MARGOLICK * The Day Louis Armstrong Made Noise * The New York Times
CRAVEN ROCK * On Lynyrd Skynyrd and the White Trash Thing * Around the Bend * Ten Years * Eaves of Ass #6
TOM EWING * The History Book on the Shelf: ABBA * Pitchfork Media
The series has been coming out annually since 2000, and always includes as an appendix a list of "other notable essays" that are often just as good. This year Idolator has put together a handy four-part index of links to those articles.