Couple more notes on Watchmen:

1. Johnnyripped wrote the other day with one of those awe-inspiring realizations you get about the book every now and then, reminding you of Moore and Gibbons's meticulous brilliance. We'll be finding easter eggs in the movie for years — like the "Burroughs St." sign, or how Zack Snyder actually did sneak in a giant squid — but those seem more like superfluous gags than anything that reflects or illuminates the story.

Johnny writes:
The image of Veidt yelling "I did it!" in issue 12 is the image of the doomsday clock set to about 11:55. Meaning all Veidt has accomplished is pushing back the hands a minuscule amount.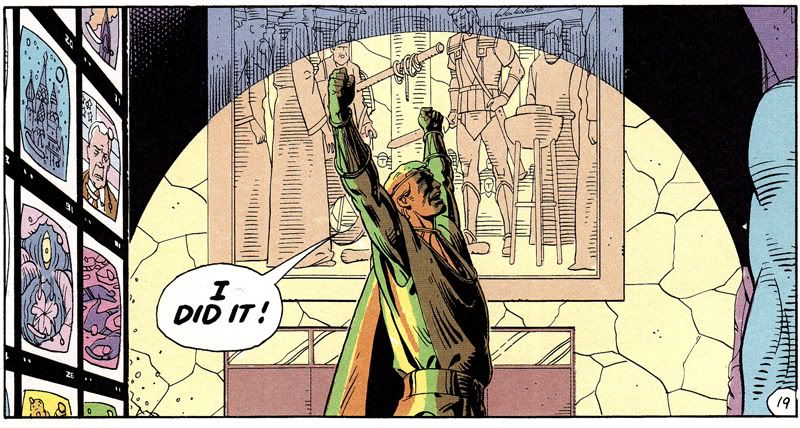 See? Genius that keeps on giving.


2. Thinking about scenes omitted from the film, I began to wonder about the background to the murder that sets the whole story in motion. We don't get a lot of this in the film, but bread crumbs are scattered throughout the book.

The central question of the whodunit is: Why did Veidt kill the Comedian? The answer, of course, is that he discovered Veidt's plan to fake an alien invasion and frighten the world into peace. And how did the Comedian find out? In the book, we're told that he stumbled across the secret island where the whole thing was being set up: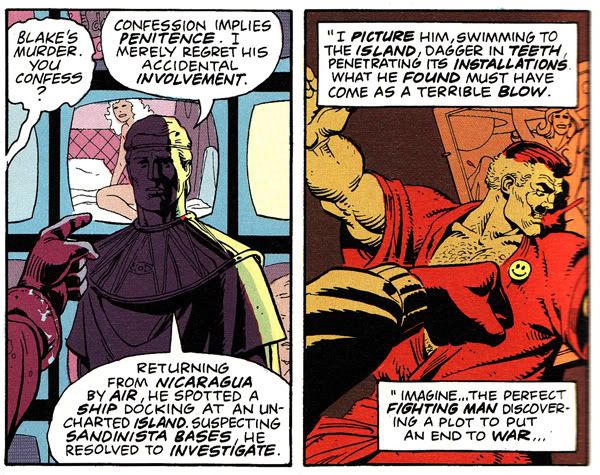 But elsewhere we get a few clues about the people who worked on this project. In a flashback in Chapter 2, the Comedian told Moloch that "on that island they got writers, scientists and artists," and later we find out that those include Max Shea, author of the Black Freighter comic, and Hira Manish, a surrealist painter, both of whom had been missing for months.

Thing is, Shea and the others thought they were working on a movie. Even the scientists who cloned a psychic's brain believed it was for the FX. From the wrap party in Chapter 10, just before they are all blown up: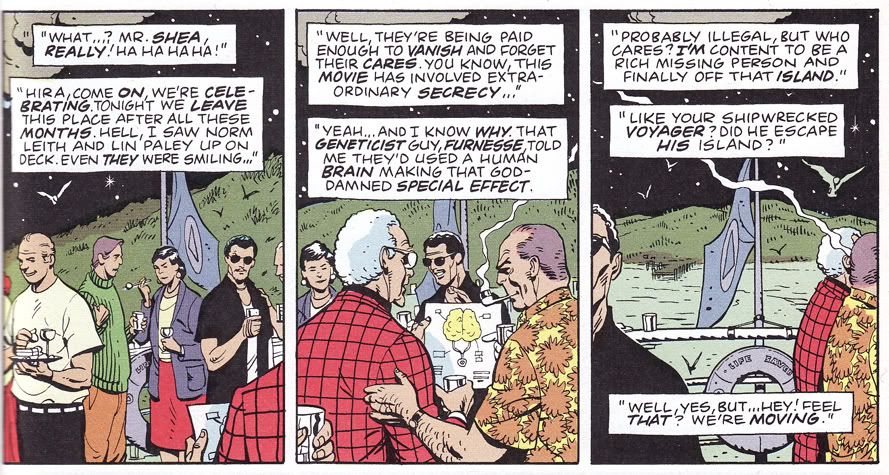 So this raises the question: How did the Comedian put two and two together? How did he figure out that this was real, not just for a movie? Did I miss it in there somewhere?

Mr. Ripped and I drew up a few possible scenarios:
Comedian saw them working on the "movie" but didn't buy it, and investigated the hell out of it.

(Unlikely. When Comedian confesses to Moloch — whose house was bugged — he sounds as though he just saw something awful and ran away. Besides, if he had investigated very far, Veidt would have found out long before.)

Perhaps there were Dr. Evil-type goings-on at the island before the "movie" plan got hatched, and this is what Comedian saw.

(Also unlikely. Comedian tells Moloch that he saw artists and writers. And it's clear from the two scenes at the island that things were done on deadline.)

Comedian found further evidence on the island that included the list of people who would get cancer, as part of a plot to frame Dr. Manhattan. As in, "What's this?

[Gasps.]

A document titled 'My Plan to Eliminate Dr. Manhattan and Achieve World Peace by Sacrificing Millions, by Adrian Veidt'?"

(Unlikely, since Veidt isn't this stupid. But it might be the only explanation. For one, this was the pre-Internet '80s, so information would have to be stored locally on a computer, and we've see how sloppy Veidt is about passwords.)

Simple incongruity in the writing. Oopsy daisy.
Other theories/corrections/schoolings? Also, I don't even remember how Snyder handled this in the film. How did the Comedian figure out the plan? Or is that even why Veidt killed him? Never got around to that partly-for-fun-but-also-partly-for-even-closer-study second screening.