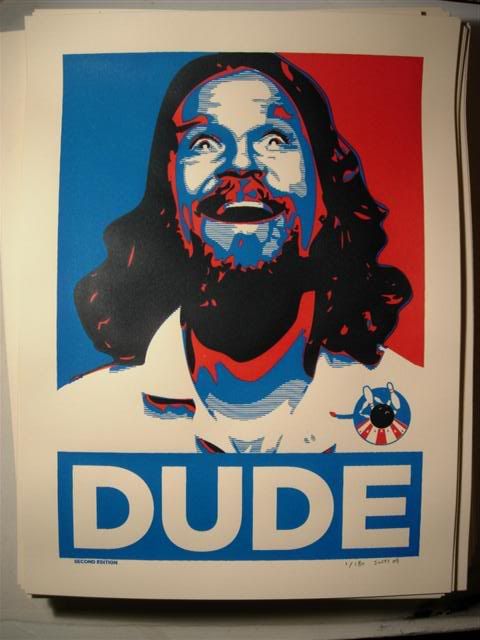 Finally I can post about this, now that a gift has been delivered.

I stumbled across the above image by Ben Swift last month in the GigPosters.com classifieds, where dozens of prints are offered each day, usually by their creators and for very low prices — basically, you can get original work by the Shepard Faireys of tomorrow for 20 or 30 bucks a pop. Not all of it is exactly for the ages, but there's some interesting work being done. Despite my occasional tirades, this really is a boom time for fresh, young poster art.

Anyway, the brilliance of Swift's poster speaks for itself, even while the Fairey Obama portrait is fast on its way to becoming a visual cliché. I ordered one for myself and another for a friend. (USA Today ran an online item, and within a day Swift ran out of his 80 prints. He had to print up a second edition of 180 to satisfy demand.)

What's even cooler is that the piece is a contribution to "This Aggression Will Not Stand, Man," a group show of Big Lebowski-inspired art at the Signed & Numbered Gallery in Salt Lake City, which is run by the sister of a member of Weezer: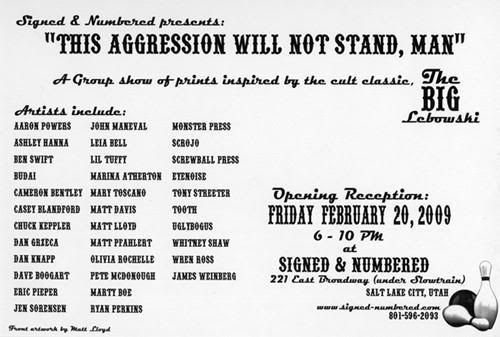 There's some very nice stuff in the show, including the below posters by Tyler Stout ("Il Grande Lebowski") and Pete McDonough ("Gutterballs"). A report from the gallery opening, with pictures and interviews, is here.