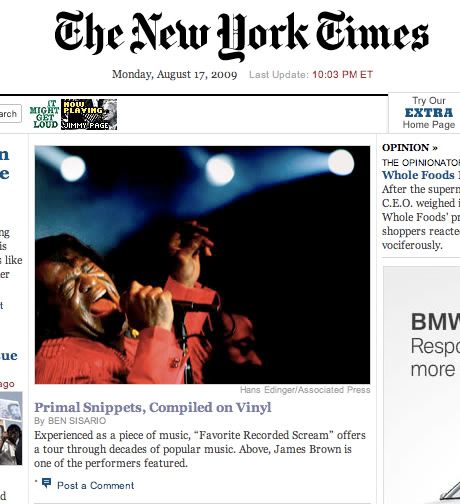 My story about "Favorite Recorded Scream," a 12-inch vinyl compilation of 74 screams from Black Francis to Ian Gillan to Screamin' Jay Hawkins to Bjork, which were chosen via ballot by the employees of 42 Manhattan record stores, is up on the Times homepage now.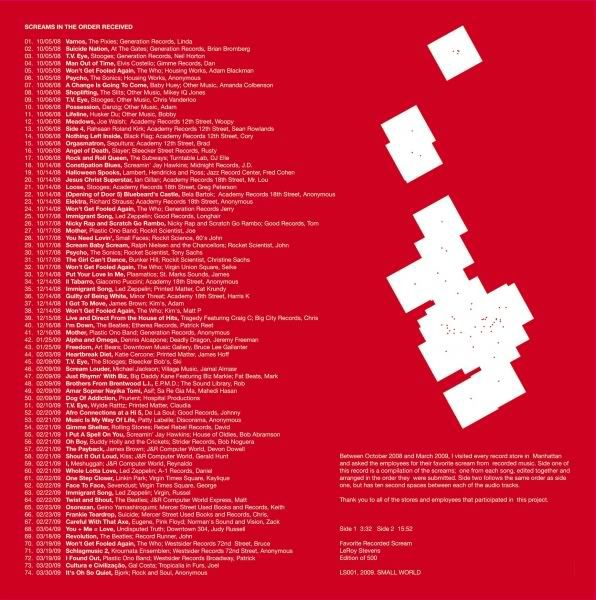 "Favorite Recorded Scream" is a pretty great little project that I stumbled upon one day a month or two ago at Academy Records on 18th Street. On the wall behind the counter they had taped up a map of New York City record stores, which I'd never seen before, though I've attempted to do the same thing myself. (Lately the stores have been going out of business too fast to keep up with.) When I asked about it, they said that it was an insert in "that scream record." Hmm? "Um, it's this red record, can't remember what it was called, but this guy came around to all the record stores. Can't remember his name..."

It took a small amount of casual hunting, which I'm sure I could have done much more efficiently, but after inquiring at a few more stores where no one could quite remember that young man's name or the title of the record, I tracked him down: LeRoy Stevens, an extremely nice 25-year-old guy in Brooklyn, who told me about his project over some Juan Valdez coffee. For the rest of the story, you've got to read the piece.

Buy the record soon. He made 500 copies and only has 150 or so left.