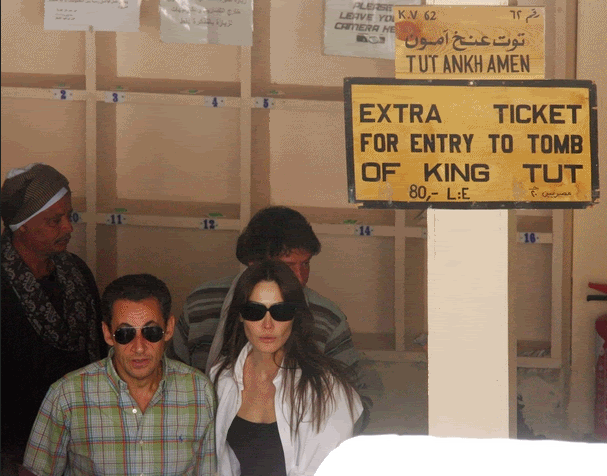 Guess who has a new album coming out next month? Mrs. (?!) Nicolas Sarkozy! It's the American release of Carla Bruni's second album, which came out in Europe last year and hit No. 1 in France. (And Switzerland, for what it's worth.)

Just in case you didn't know, she's a hot former supermodel whom Sarkozy started seeing in public less than two months after divorcing his wife. Maybe Bruni's not a dumb hot former supermodel, though. I've heard her first album and it wasn't bad. And the songs on No Promises are based on poems by Yeats, Auden, Dickinson and some other poetical heavy hitters. (No word on whether there's a 13-minute NWOBHM adaptation of "The Rime of the Ancient Mariner," however.)

Here's the well-timed announcement:
Carla Bruni
No Promises
(Downtown Records; February 19th, 2008)

From an elegant beauty comes an elegant record: with the subtlety of a spring breeze and the delicacy of fine lace, Italian-born/French-raised chanteuse Carla Bruni has written a poignant record establishing her as an undeniably gorgeous new voice to American ears. With 2 previous records under her belt, heralded in her home of Europe, Bruni's current creation, No Promises, will be her first English language album to hit US shores via NYC based label, Downtown Records (Gnarls Barkley, Cold War Kids). The record was released exclusively on Itunes and Barnes and Nobles on August 7th 2007, and now will see a wide release on February 19th, 2008.

No Promises is a true celebration of the English language, a tribute to the literary greats of our time. Carla's fascination and deep appreciation of the language prompted her to make an album comprised of her favorite poems interpreting them into delicate and introspective songs. From Emily Dickinson's "I Felt My Life With Both My Hands" to WH Auden's "Lady Weeping At The Crossroads", to William Butler Yeat's "Those Dancing Days are Gone" and "Before The World Was Made," the songs flow with understated emotion and a respectful interpretation that does not overstep its creators vision, instead enhancing and modernizing the time-tested lyricism of these shimmering works. All the while, Carla's voice floats smoothly along the lines of prose, using the words of others to tell a story that is all her own.

No Promises has reached large success in Europe when it was released last year, selling over 400,000 copies world-wide, thus far. The media has paid it remarkable attention proclaiming such praises as, "Breathy, intimate and up close" (Music Week UK); "It's a daring concept and remarkably it works" (The Times); "This coupled with her ethereal beauty and obvious passion for words can only endear her to the hearts of millions" (MSN). Bruni's lilting, thoughtful tones beg comparisons with the likes of Francoise Hardy, Jane Birkin and Madeleine Peyroux, with breaths of fresh air and Paris in the spring.

Profound, potent and imbued with a delicate beauty, No Promises is a very special project from a very special artist. An album, if you like, of pure poetry.
[This is actually a few days old but I've been backed up.]